The preferred preclinical model for MCI is based on aged rats which, like humans, develop memory deficits, typically at the age of 16 months. Aged rat brains show evidence of microglial and astrocyte activation and of oxidative stress.
Several studies were performed on aged rats, focusing on different aspects of memory, known to be affected by age. In the Object Recognition Trial, Ladostigil was shown to reverse the natural decline in Episodic Memory, so that rats aged 22 months on the drug performed significantly better than control rats.

In a water maze trial, aged rats on Ladostigil performed significantly better than control rats of the same age, and in fact showed similar behaviour to that of young rats  (10 in each group).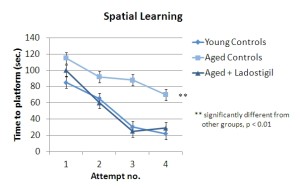 Several more studies were conducted and show similar effects of Ladostigil on aged rats. We believe these results are due to a complex mechanism of action, combining reduction of oxidative stress, together with neuro-protection and  immune modulation.