Ladostigil is a novel drug candidate, designed to provide treatment for Mild Cognitive Impairment (MCI). It has undergone several clinical trials, where it was shown to be safe and well tolerated.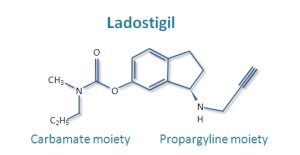 Ladostigil was initially designed as a drug for AD in high doses, acting as a cholinesterase and brain-selective monoamine oxidase inhibitor. However, it did not meet its primary endpoint in a large, Phase IIb AD trial in later 2012. In a lower dose which does not inhibit these enzymes, Ladostigil has a proven neuroprotective activity, reducing oxidative stress and microglial activation and inhibiting pro-inflammatory cytokines. Ladostigil is currently in the final stages of enrollment of a double-blind randomized trial for MCI.
Avraham Pharma has extensive IP protection on Ladostigil. Patents are granted in the US and Australia, and are under examination in additional countries.